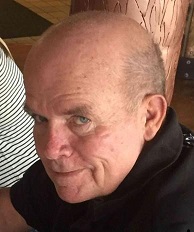 Brent died of cancer August 19, 2023.
Brent M. Welker passed away Saturday, August 19, 2023 from cancer. He was born Jan. 31, 1951 in San Jose, CA to Gerald C. Welker and Betty J. Baddley Welker. He is survived by his son Matthew, daughter Edith, and grandchildren Emil and Iseut. He is preceded in death by his parents, his older brother Craig, and his stepbrother Arnie.
Brent was crafty yet scrappy, with an entrepreneurial spirit. Throughout his career, he co-owned several drapery and awning businesses, and was an electric sign contractor for national chains such as Blockbuster Video, Boston Market, and Young Electric Sign Co.
Born in San Jose, he moved to Salt Lake City in 4th grade. He garnered many life-long friends at Indian Hills Elementary, Hillside Jr. High and Highland High, where he graduated in the class of '69. In the early '70s he attended classes at USU, married highschool sweetheart Andrea Backman, became a father, and served in the Army reserves. Late in life, he was a doting grandfather and steady, loving presence in his family's lives.
Brent, aka Buck, Bertram, or just "Welker," would always light up a room. He was a good listener with a quick wit, and a friend to coworkers, cowboys and cashiers. Other important people in his life included his stepdaughter Jennifer Harmon, stepson Marc Coulam, and former wife, yet still life-long companion, Julie Carter Hawkins. His stepmother Pam Welker White and her daughters Jarnie and Cheryl provided him with love and support as a young man.
Brent was one of a kind and will be dearly missed. There will be an informal celebration of life with friends and family at a future date.
https://www.legacy.com/us/obituaries/legacyremembers/brent-welker-obituary?id=52837390