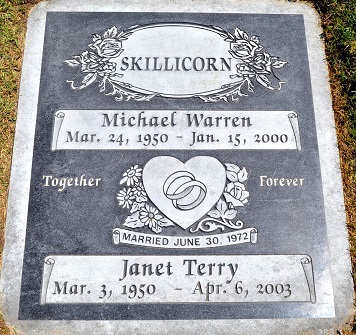 Mike died January 15, 2000 from cancer. This is his obituary published in the Deseret News January 19, 2000.
Michael Warren Skillicorn, age 49, passed away January 15, 2000, of cancer, at home.
He was born March 24, 1950 to Lynn and Mildred Mary Skillicorn in Salt Lake City, UT. Married Janet Terry, June 30, 1972 in Salt Lake City, UT. He worked for the Salt Lake City School District for 20 years as a custodian. He also worked for several hospitals as a custodian. His biggest joy was his nieces and nephews.He is survived by his wife; three brothers: Lynn E. (Carlene) Skillicorn, David E. Meyer and Roger (Teresa) Meyer and one sister: Joyce (Dean) Johnson. Also many nieces and nephews and special family pets, Keesha and Shasta. Preceded in death by his parents.
A special thanks to Dr. James Wilcox, Dr. Patricia Legant and the IHC Hospice team.
Funeral services will be held at 10 a.m. on Friday, January 21, 2000 at the Wasatch Lawn Mortuary Chapel, 3401 South Highland Drive; where friends may call on Thursday from 6-8 p.m. and Friday from 8:45-9:45 a.m., prior to services. Interment, Wasatch Lawn Memorial Park.