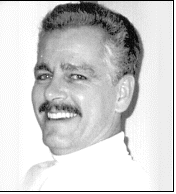 Bob died of cancer on July 21, 2003. This obituary was published in the Salt Lake Tribune on July 24, 2003.
Robert L. Pugmire 1950 ~ 2003 MURRAY, UTAH – 52, returned home to his loving Heavenly Father on July 21, 2003, following a short but brutal battle with cancer. He was born November 16, 1950 in Montpelier, Idaho, to Laurel and Norma Hulme Pugmire. He graduated from Highland High School in Salt Lake in 1969, attended Utah State University and served in the United States Navy for six years on nuclear powered submarines. Bob married Linda Parker, August 20, 1977 and resided in Murray, Utah. The marriage was later solemnized in the Jordan River Temple. As an active member of The Church of Jesus Christ of Latter-day Saints, he currently served as 1st Counselor to the Bishop of Murray Riverside 7th Ward. He was employed by Union Pacific Railroad for 26 years and loved and appreciated the many fine people he was able to work with. His pride and joy are his two children, Patrick and Danielle. His dedication to his family, church, and occupation were admirable. He will be missed by all. All who knew him loved and respected him for the good man that he was. He lived life to the fullest. He loved warm weather, boating, water skiing, those fun vacations and just being with family and friends. He loved watching Danielle and those Spartonians dance. He'll be watching you at State! Because of his magnetic smile, his warmth and kindness, people were easily drawn to him. He had an unconditional love for people, a very kind and gentle nature and always brought out the best in everyone. We love you and will miss you more than words can say. We have a sure knowledge that we will all be together again. Bob is survived by his wife, Linda, a daughter, Danielle, two sisters, Kathryn Baldwin (Chris Beck), Marjean (Rick) Hedstrom, parents-in-law, Dale and Jeannine Parker, brother and sister-in-law, Gary and Jeanette Hymas, nephews, Steve, Dave, Dan, Daren, and Ryan, and his little dog "Tucker". He was preceded in death by his son, Patrick, both parents, Laurel and Norma Pugmire and a nephew, John Baldwin. "Though we cannot see you, you are always at our side". We love you, Sweetheart. Funeral services will be held Saturday, July 26, at 12:00 Noon in the Murray North Stake Center, 700 West 5200 South. Family and friends may call Friday evening from 6:00 to 8:00 p.m. at Jenkins-Soffe Mortuary, 4760 So. State, and on Saturday at the church from 10:00 a.m. until 11:45 a.m. The interment will be held in the Paris, Idaho Cemetery with graveside services held at 5:00 p.m. Services are under the direction of Matthews Mortuary of Montpelier, Idaho.
This is Bob's contribution to the 10 Year Reunuion book.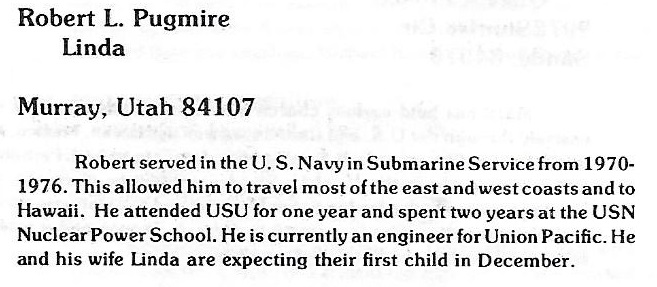 http://www.legacy.com/obituaries/deseretnews/obituary.aspx?n=robert-l-pugmire&pid=1184297&fhid=4549