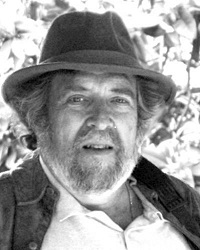 Neal died April 19, 2020. This is his obituary published in the Salt Lake Tribune, April 26, 2020.
3/28/1951 ~ 4/19/2020
Our dad, Robert Neal Olson, was born in Salt Lake City, Utah to MaeBelle Hadley Olson and Robert Theodore Olson. He received his Bachelor of Science degree in Biology from the University of Utah in 1973. In his early years, Dad was a keen fisherman, sportsman and a member of the Mountain Men of the Wasatch. He met and married Lynne, the love of his life, in 1976.
Dad worked 35 years for the State of Utah in the Department of Environmental Quality, Division of Air Quality. Recognized as an expert in his field, Dad co-authored numerous articles and gave many conference presentations. Dad hung up his lab coat in 2013. He enjoyed working in his garden, reading history, and perfecting his Swedish Chef impression.
Neal was a Renaissance Man. His handiwork as a craftsman, woodworker, engineer, and builder is on display in every detail of his home and garden. Dad loved to put his multiple talents and skills to use in support of his family's diverse projects and activities. Dad's generous spirit extended beyond his family to his neighbors and his Sugar House community. His attitude was always "Here and happy to help."
Dad is survived by his son Billie (Michelle) and their two sons; his daughters Katie (Tom) and Cassie (Josh); his wife Lynne Carlson Olson; and by his sister Marie Reiter and brother Jim (Nancy) Olson and their families.
Neal was a great man-a big man with a huge laugh and a gigantic heart. He leaves an enormous hole in our world. But we know that it will be filled by following his example and by honoring his legacy of selfless service and love.
Due to the current circumstances, a memorial celebration of Neal's life will be held at a future date.
For the full obituary or to leave condolences, please visit www.odonnellandsons.com
In lieu of flowers, the family suggests donations be made to Perseverance Ranch Equine Sanctuary in Kanab, Utah, or a tree be planted in his honor.
https://www.legacy.com/us/obituaries/saltlaketribune/name/robert-olson-obituary?id=2145938