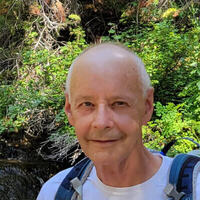 Gary died October 6, 2021. "After battling cancer and surviving a bone marrow transplant, he succumbed to pneumonia."
Gary Cannon Nichols was born on February 16, 1951 to Ivan and Elaine Nichols in Monticello, Utah. He died on October 6, 2021, in Salt Lake City surrounded by family. After battling cancer and surviving a bone marrow transplant, he succumbed to pneumonia.
Gary, once dubbed Utah's "King of Kayaking", developed his love of the outdoors early on with many family camping trips. He loved Boy Scouts and earned his Eagle at age 14. He was on the high school swim team. At 16, he worked on the waterfront at the East Fork of the Bear Scout Camp where his love of boating began. He served in the Alberta/Saskatchewan mission from 1970-1972.
He attended the University of Utah where he met his true love, Jeanette Hansen. They were married and sealed for all eternity on May 17, 1974 in the Salt Lake Temple. He worked at the Teton Canoe Base in Wyoming where he lived in a tent that first summer with his new bride. They had 4 children that they took on many great adventures. From rafting to camping to hiking and visiting national parks, Gary instilled a love of the outdoors in each of them. One of Gary's greatest joys was taking his grandchildren on outdoor adventures. River trips, hikes, snowshoeing, and backpack trips are treasured memories. He even once took five 4-year-olds on a backpack trip!
Gary is credited for 16 first descents of sections of Utah rivers. He worked at the University of Utah for 41 years. There he taught and created 33 outdoor classes including kayaking, canoeing, and backpacking, and he influenced 10,700 students. He worked 26 years at REI and published 3 kayaking and hiking guidebooks. He served in the scouting program for more than 30 years where he touched countless lives. Often described as quiet and humble, Gary shared his testimony of the gospel of Jesus Christ by how he lived more than by what he said. He will be dearly missed by so very many people.
A special thanks to Gary's brother Allan, who donated his bone marrow and gave us many more precious months together.
Gary is survived by his loving wife, Jeanette; his children, Amy (Jacob) Schmidt, Mindy (Justin) Hendrix, Tyler (Kaylen), and Allison (David) Bradley; his siblings, Julie (Jerry) Goodro, Tina (Wilford) Mueller, Kirk (Lucy), Lynn (Susan), and Allan (Paula); and 13 grandchildren.
He is preceded in death by his parents; and 3 grandchildren.
Funeral services will be held Saturday, October 16, 2021, at 11:00 am. Gary chose to donate his body to the University of Utah for research and medical study, so rather than viewings, visitations will be held Friday, October 15th from 6:00-8:00 pm and Saturday, October 16th from 9:30-10:30 am. All services will be held at the chapel at 8136 South Old Bingham Highway (3400 W) West Jordan, Utah. Please wear a mask to protect others. Ties are optional.
In lieu of flowers, "take a hike" or consider being an organ donor.