Kathy died from cancer on January 7, 1997. This is Kathy's obituary published in the Salt Lake Tribune on January 8, 1997. (Sorry about the quality. It is the best copy we could find but the text of the obituary is reprinted below.)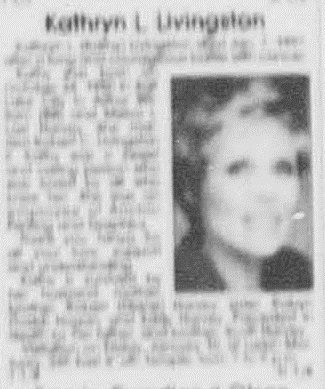 Kathryn (Kathy) Livingston died Jan. 7, 1997, after a long courageous battle with cancer.
Kathy was born on October 24, 1950 in Salt Lake City to Arthur William (Bill) and Melva L. Last Harvey. She married Robert C. Livingston II. Kathy was a sweet and caring person who was loved by all who knew her. She was an employee of Anchor Printing and Graphics.
Thank you, Tanya, for all your love, support and understanding.
Kathy is survived by her husband; mother; brother, Robert (Diane) Harvey; sister Robyn (Todd) Hogan; and Eddy Harvey. Preceded in death by her father, and brother, Scott Harvey.
Visitation on Friday, January 10, at Larkin Mortuary, 260 East South Temple, from 7 to 9 p.m.