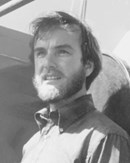 Craig Died of natural causes on January 15, 2015. This is his obituary published in the Deseret News on January 18, 2015.
1950 ~ 2015
Craig Robert Burdett, our brother, uncle, and friend, passed away January 15, 2015 of natural causes.
Craig was born October 9, 1950 in Salt Lake City, Utah to Karl George and Gladys Jacob Burdett. He graduated from Highland High School and attended the University of Utah.
Craig was a faithful member of The Church of Jesus Christ of Latter-day Saints and had a strong testimony of the Savior, Jesus Christ. He loved the Lord…as a young man, he served a full time mission in the Illinois, Chicago Mission.
He worked as Associate Manager in his father's sewing company, Burdett Apparel, but his real love in life was art. Craig was an amazing artist…sketches and oil "portraitures" were his specialty. He loved the works of Norman Rockwell, Arnold Friberg and Andrew Wyeth. He saw so much beauty in the world….whether it was the clear blue sky on a summer morning or the magic of Disneyland…both excited him. He was deeply patriotic; he especially loved the Founding Fathers and Thomas Jefferson. Craig loved sports and excelled at tennis and skiing. He enjoyed good music and was a great fan of the "Beatles."
We will miss Craig dearly. We will always remember his sweet and tender demeanor, his never ending generosity, his kind and loving spirit.
He is preceded in death by his parents, Stephen, a brother, and Linda Brown (Richard), a sister. His many nieces and nephews will miss him….they adored him and loved his fun sense of humor.
Funeral services will be held on Tuesday morning, January 20, 2015 at 11:00 am at Wasatch Lawn Mortuary, 3401 South Highland Drive. A viewing will be held prior to the services from 10-10:45 am.
http://www.legacy.com/obituaries/DeseretNews/obituary.aspx?page=lifestory&pid=173887285