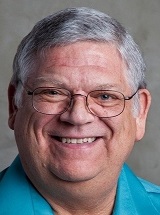 Bruce died at home, August 3, 2023.
Bruce Alexander, loving husband, father, and papa aged 72 passed away August 3rd at home surrounded by family. He was born May 1, 1951, in Salt Lake City to parents Claude Alexander and Donna Martin Alexander. Bruce married his high school sweetheart Debbie Jones on March 15, 1973, in the Salt Lake Temple. They quietly and affectionately celebrated 50 years of marriage a few short months ago. He served 34 years active duty in the Air National Guard, achieving the rank of Senior Master Sergeant. He also served faithfully in the Church of Jesus Christ of Latter-Day Saints, where he loved working with the youth. Bruce played softball as an adult and traveled with the Air National Guard team playing games around the country. Bruce loved the outdoors. He was an avid fisherman and hunter. He was constantly rock hounding and enjoyed boating with his family. He was a history buff and especially loved church and civil war history. Bruce loved travel. He would research a travel destination then excitedly take his wife showing her the most remote graveyard, ruin, or point of interest. His daughters were the sweetness of his life. He never missed giving red roses to his girls on their birthday. His sons were the adventure of his life. He took them camping and fishing as often as he could. He grilled many chicken breasts for his best canine friend, Riley. Bruce's favorite people called him papa. His 9 grandchildren adored him, and they were his absolute world. He spent his days sending them loving texts, slipping them money, viewing their dance concert videos, and watching their softball and baseball games on GameChanger. He never missed a birthday FaceTime call. Bruce will remain the devoted caretaker of those that love him.
Bruce is survived by his wife Debbie Alexander, son Gregg (Lacey), daughters Tricia (Brad), and Staci; grandchildren Kaylee, Kenzie, Jossie, Emme, Lissy, Grant, Corbin, Lydia, and Viv. Preceded in death by his son Brett; brother Dick; nephews Ty, Taly, and Bryan; parents and in-laws.
Funeral services will be held Thursday, August 10, 2023, at 11:00 am at the Canyon View Stake Center located at 9119 South 1300 East, Sandy, UT 84094. Viewings will be held Wednesday, August 9 from 6-8 pm and also on Thursday, 9:30-10:30 am prior to services; both viewings will be located at the church. Burial will be in the Larkin Sunset Gardens.
https://www.legacy.com/us/obituaries/deseretnews/name/bruce-alexander-obituary?id=52638740