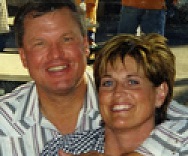 John died on November 18, 2012 fron a massive heart attack. This obituary was published by Magleby Mortuary in Manti, Utah.
John Richards
Manti, Utah 
John Earl Richards, 61, of Manti, passed away suddenly of a massive heart attack on Sunday morning November 18. John was born on June 25, 1951 in Carbon County and was adopted by Earl and Virginia Richards, growing up in the Sugar House, Utah area. He married to Sandra Lee Townsend on July 1, 1972 in Las Vegas, Nevada and sealed to her and their 4 children on July 16, 1994 in the Manti Temple.
John and his family moved to Manti in 1994. He will be lovingly remembered as a generous and loving husband, father, grandfather, and friend.
John served his Heavenly Father, with his wife, for many years as a missionary helping hundreds of others to overcome addiction and other difficult life situations. He gave his energy and love to helping the Lords work here in this valley and to those who were seeking help.
John loved the Christmas season with the lights, music, decorated trees and anything that could bring the spirit of Christmas to his home and his family. John was generous with his family and loved to give them gifts to see the joy it brought to them. He also loved having movie nights with his grandchildren and family. John will be missed by his loving family and the countless souls he helped throughout his life.
John is survived by his wife Sandra Richards; sons Kelly and Ryan; daughters, Rachelle Kitchen and Chantelle Phelps as well as 13 grandchildren.
He was preceded in death by his parents and his grandson baby Kelly.
Funeral services will be held Wednesday, November 21, 2012 at 11:00 a.m. in the Manti 1st Ward, 96 South Main, where friends may call Tuesday from 6-8 p.m. and Wednesday from 9-10:30 a.m. Burial will be in the Manti City Cemetery. Funeral Directors: Magleby Mortuary, Richfield, Salina and Manti.
In lieu of flowers, contributions may be made to Zion's Bank under the name of John Richards.