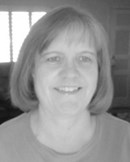 Sheryl died from cancer on September 10, 2015. This obituary was published in the Deseret News on September 17, 2015.
Sheryl Ellen Pulsipher, beloved sister and friend, passed away Thursday, September 10, 2015, following a long battle with cancer that began in 2014.
Sheryl was born March 24, 1951, in Salt Lake City, Utah, the son of John Lewis Pulsipher, Jr. and Marian Lee Pulsipher. She spent her early years in Salt Lake City, Utah, where she graduated from Highland High School, after which she attended and graduated from Brigham Young University in the mid-1970s.
Following her graduation, she moved to Washington DC, where she worked in the Library of Congress, doing research for members of Congress. When her mother and father began to have increasing medical difficulties in 1980, Sheryl returned to Salt Lake City, where she provided help and assistance to her parents during the last years of their lives. In the mid-1980s Sheryl began work at American Express's main office in Salt Lake County. Over time she rose to several important leadership positions, working there until her illness prevented her from working in late 2014.
Sheryl was a mighty woman. Never married, she stepped in to help raise her 9-month-old nephew, Kevin, when his mother suddenly passed away. Sheryl was a wonderful person to be around: capable, comfortable, sincere and intelligent. She was an active and committed member of The Church of Jesus Christ of Latter-day Saints throughout her life. She particularly enjoyed working with children, especially in Primary. Her mission in life was to help others. She had an engaging and outgoing personality and was a powerful example of Christian living to her family and those with whom she worked and served.
She is survived by her twin sister, Marilyn Pulsipher Baird, her three brothers: Gerreld Lewis Pulsipher, John Douglas Pulsipher, and Joel Wilford Pulsipher, and his son Kevin Pulsipher, as well as many other nieces and nephews. She was preceded in death by her parents and a brother, Richard Lee Pulsipher.
Her sister Marilyn was at her side giving exceptional support and care over much of the past year of Sheryl's life.
Funeral services will be held on Saturday, September 19, 2015 at 11:00 a.m. at the Parley's 5th Ward chapel, 2625 East Stringham Avenue, Salt Lake City, Utah. Friends may call Friday evening at Wasatch Lawn Mortuary, 3401 South Highland Drive, Salt Lake City, between the hours of 6:00 pm to 8:00 pm, and on Saturday from 10:00 am to 10:45 am at the Parleys 5th Ward chapel prior to the services. Interment will be in Wasatch Lawn Memorial Park, 3401 South Highland Drive, Salt Lake City, Utah.
http://www.legacy.com/obituaries/deseretnews/obituary.aspx?n=sheryl-ellen-pulsipher&pid=175850604&fhid=11609