Lynne died from melanoma. Lynne's obituary was published in the Deseret News, January 31, 1994.
Lynne Mariani Zimmerman, age 42, died January 30, 1994 at her home in Salt Lake City following a courageous struggle with cancer.
Lynne was born June 8, 1951 in Salt Lake City to Ernest Daniel Mariani and Geraldine Thompson Mariani. She was married to Michael David Zimmerman on December 9, 1978 in Salt Lake City. She was preceded in death by her mother.She grew up in Salt Lake City, graduating from Highland High School in 1969. She attended Whitman College, the University of Utah, and Stanford University, graduating from Stanford in 1973.
Lynne began her career as a copy writer with Makoff, Inc., worked for several Salt Lake City retailers and for David W. Evans, Inc. before moving to Washington, DC where she developed public service campaigns and worked on the staff of Senator Muriel Humphrey. She returned to Salt Lake City, married and continued her career as a free-lance writer and producer. From 1981 to 1986, she served as Director of Publications and Public Affairs for the U of U College of Law. From 1986 through 1992, she was Press Secretary for Salt Lake City Mayor Palmer DePaulis. She then became Director of Public Relations for the law firm of Van Cott, Bagley, Cornwall & McCarthy, where she worked until incapacitated by her illness.
Lynne served on the Executive Committee of the U of U Museum of Fine Arts, was a member of the Utah Women's Forum, had been a charter member of the U of U College of Business Advisory Council, a member of the Board of Directors of the Utah Arts Festival, a member of the board of directors and president in 1983-84 of the Stanford Alumni Association of Utah and served as co-chair of the 18th Annual Governor's Ball. Lynne was especially proud of having started the Mayor's Women Helping Women Program, the Mayor's Bicycle Advisory Committee, and the HBE Book Group.
She is survived by her husband, Michael; three young daughters, Evangeline, Alessandra and Morgan; her brother, E. Marc Mariani, MD; her sister, Leigh Mariani Vanden Akker; and her father, Erness D. Mariani.
Services will be held at 12:15 p.m. Thursday, February 3, 1994 at the Cathedral Church of St. Mark, 231 East 100 South. Friends may call at Evans & Early, 574 East 1st South, from 6 to 8 p.m. the previous evening. Interment will be at Mt. Olivet.
In lieu of flowers, the family requests donations be made to the Lynne Mariani Zimmerman Scholarship Fund for Girls, c/o Rowland Hall-St. Mark's School, 205 First Avenue, Salt Lake City, UT 84103.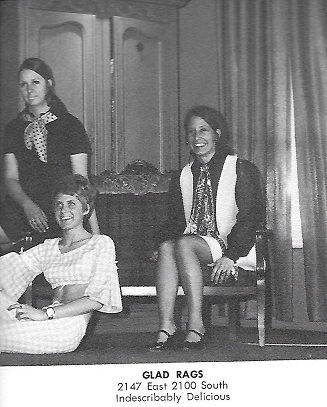 This is Lynne's contribution to the 20 Year Reunion Book.
https://www.deseretnews.com/article/333653/DEATH--LYNNE-MARIANI-ZIMMERMAN.html