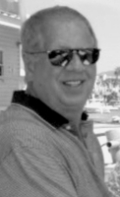 Norbert died of cancer on May 15, 2013. This obituary was published in the Salt Lake Tribune on May 21, 2013.
Died May 15 in Anaheim CA,(Cancer). Family life can be somewhat cantankerous at times. Not for Norbert. He would always stay out of any type of situation of that nature. He was a true gentle, mellow, kind person. He never had a bad word to say about anyone. Norbert lived and worked in Anaheim, CA as the manager of a small business. Even while fighting cancer for years it was important for him to work as many hours as possible every week. This was a work ethic that he learned from his father. Like his father, he was a talented cook and baker. Norbert loved football. He was a true Ute fan. A highlight of his Utah football fan life was when Utah beat Alabama. He must have watched that tape 20 times. He loved to go on cruises, but only if the cruise ship had a casino. His true love was his numerous trips to Las Vegas to play video poker. He lived within his means and never asked anyone for anything. Norbert never complained about the numerous bouts of chemotherapy that he had to endure. He was always first to send Christmas cards, birthday cards, any type of holiday really. Oh God Norbert, we shall miss you so much. He is preceded in death by his father and mother and his two younger sisters. He leaves behind a sister, Joanne Clanton (Gary) and a brother, Rick Goeller (Robyn). He had a special love for little Marion and his many nieces and nephews.
As we search for forms of spirituality in this short life we pray that it is not a cliché to say that other family members welcome you with open arms. Your pain is gone. Ours is not. As has been said, "People die, love does not." Ours for you never will. Rick was so looking forward to playing geezer golf with you, you know, where we really get our moneys' worth. 150 shots for 9 holes, what will he do now?
Memorial services will be held Saturday, May 25th at Wasatch Lawn Memorial Park. Visitors will be welcome from 1 - 2 P.M. and family only services will be held from 2 - 3 P.M.
http://www.legacy.com/obituaries/saltlaketribune/obituary.aspx?n=norbert-goeller&pid=164899986&fhid=11609